The Mitsubishi Outlander PHEV qualifies for a Federal Tax Credit of $5,836 as of 6/20/19. Add this to the Griffin Discount and factory incentives to see savings as much as $10,000 on this amazing Compact SUV.
The Mitsubishi Outlander PHEV (Plug-in Hybrid Electric Vehicle) is the best of both worlds. Whereas Hybrids only allow charging from the engine and Plug-ins don't have an engine, the Outlander PHEV will charge from the engine like a conventional Hybrid PLUS allow you to plug in to a charging station or 120 standard outlet to increase electric range capability. Plug-in anxiety is eliminated as it has a 2.0L MIVEV Gas Engine but it also has twin Electric motors that with a full charge range of approx 22 miles giving a combined range of 310 miles.
Goodbye range anxiety!
The Mitsubishi Outlander PHEV is the only Plug-in Hybrid with a gas engine. 
POWER
Power of the combined Gas and electric motors is similar to the current Outlander GT's V6 engine. The PHEV system utilizes a high capacity 12KWh Lithium-Ion battery specially developed for the Outlander PHEV providing power to the front and rear motors for electric driving. On the GT model it also powers the 2 AC outlets for a combined 1500 Watts.
DRIVE MODES
The Outlander PHEV has 3 drive modes. 
EV Mode (Electric only) Electric motors power the front and rear wheels with electricity form the battery. Ideal for residential areas and low speed driving. Zero Fuel consumption with a super quiet ride. Gas engine will kick in if extra power is needed.
Series Hybrid Mode.  Electric power with gas engine assistance where needed - eg, going uphill or entering a freeway where you need extra acceleration
Parallel Hybrid Mode. Gas engine powers the vehicle with electric motor assistance when extra power is needed. Regenerative braking and excess energy can also charge the battery while driving.
There are also battery modes you can control. 
Battery Save Mode - Forces engine to turn on and stop using the main drive battery - Use this on highways where gasoline engine power is more efficient.
Battery Charge Mode - This forces the engine to charge the Lithium-ion battery pack up to 80% capacity in about 40 minutes.
EV Priority Mode - Use only the main drive battery. 
If you leave home and get on a freeway, use Battery Save mode until you get to the city then switch to EV Priority mode. On a long trip use the Battery charge mode to recharge the battery while driving. 
OUTLANDER PHEV APP
Mitsubishi Outlander PHEV has a Remote Control app for your smartphone allowing access to your Outlander PHEV functions. Schedule charging times, Pre-cool or Pre-heat the cabin all from your phone. Mitsubishi Outlander Remote Control Apps available for Apple and Android at the
App store
and the
Play Store
TOWING
Towing capacity is 1500lbs. Cargo capacity is 66.6 cu ft and rear seats can be folded down.
WARRANTY
5-Year / 60,000 mile new vehicle Limited Warranty (Fully Transferable)
10-Year / 100,000 mile Limited warranty on PHEV components 
10-Year / 100,000 mile Limited Warranty on main Lithium-Ion battery (Fully Transferable)
10-Year / 100,000 mile Powertrain Limited Warranty (Original Purchaser)
7-Year /100,000 mile anti-corrosion perforation Limited Warranty (Original Purchaser)
5-Year / unlimited miles Roadside Assistance Benefits.
PRICING
With MSRP prices starting at $35,795 it also qualifies for Federal and State rebates allowing savings of up to $5836 for driving green.
All Outlander PHEVs feature a Mitsubishi's Super All Wheel Control 4x4 system specifically designed for the PHEV. 
The Mitsubishi Outlander PHEV SUV qualifies for HOV lane access.
Two Trim Levels are available in the Outlander PHEV
 SEL - S-AWC 
GT S-AWC 
 Standard Features

Twin Electric Motor System with Mitsubishi Super All Wheel Control

DC Fast Charging capability

Smartphone Link Display Audio System with APPLE CAR PLAY and ANDROID AUTO

Outlander PHEV II App compatibility

Starting at $34595

  SEL Standard Features PLUS

Forward Collision Mitigation Lane Departure Warning and Multi-View Camera System

LED Headlights

Rockford Fosgate Premium Audio System

2 AC Outlets with 1500W power supply

Starting at $40,295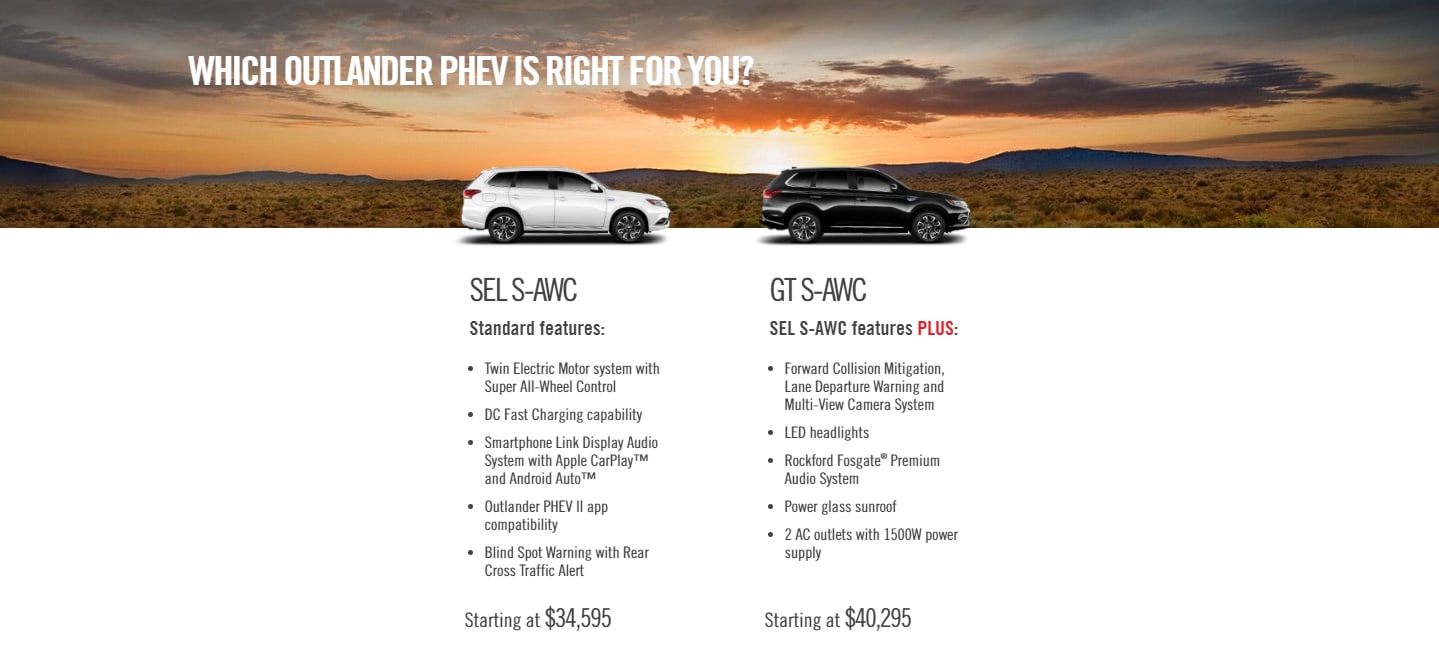 Awards:
#1 World's Best Selling Plug In Hybrid SUV
Green Car Journal's 2019 Green SUV of the Year
ASG Best 5 All round Performance Award
NEMPA (New England Motor Press Assn) Best Green Vehicle Hybrid/PHEV
Charging
How and Where can I charge my Mitsubishi Outlander PHEV?
You can charge your Outlander PHEV at home with a 120V standard household outlet (Level 1 charging = 8 hours to fully charge) 
A  professionally installed 240V charging station (Level 2 charging = 4 hours to fully charge)
When out and about you can charge your Outlander PHEV at a 240V public Charging Station (Level 2) or at any DC Fast Charging Station which will charge to 80% in about 25 minutes.